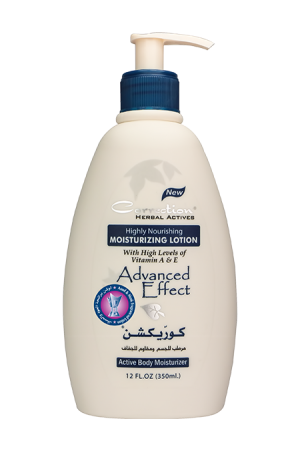 Highly Nourishing Moisturizing Lotion
•Rich in Natural Extracts (Almond Oil, Avocado & Chamomile) and Vitamins A & E.
•Unprecedented superior body moisturizer & softener.
•Protects the skin from severe dryness by retaining  it to the normal status
•Enhances the skin's renewal process. 
•Improves the skin's condition by providing active hydration and nourishing dry skin .
Aqua, Glycerin, Dimethicone , Persea Gratissima (Avocado) Oil, Prunus Amygdalus Dulcis (Almond) Oil, Caprylic / Capric triglyceride, Chamomilla Recutita (Matricaria) Flower Extract, Carbomer, Tocopheryl Acetate, Ceteareth-12, Glyceryl Stearate, Cetearyl Alcohol, Cetyl Palmitate, Tri Ethanol Amine, Parfum, Methyl paraben, Propyl paraben, Disodium EDTA, Retinol Palmitate.
Vitamin E Benefits
An antioxidant, is known as a dynamic weapon against premature aging and can help combat environmental pollutants.
Almond Oil Benefits
An excellent lubricant and emollient which is high in oleic, linoleic and other fatty acids. Ideal in the treatment of dry, chapped skin, it protects and moisturizes. Native sweet almond protein has similar properties with collagen and is an excellent anti-aging component that retains moisture, softens and smoothes the skin. Especially suited for sensitive skin.
Aloe Vera Benefits
Rich in vitamins, minerals, amino acids, enzymes, and proteins, aloe is a natural humectants that helps support the moisture Balance of the skin. It has recognized its restoring, skin-soothing, and moisturizing properties.
Glycerin (Active Ingredient)
Glycerin is a compound that can be made from natural products such as vegetable oil. Glycerin, also called glycerol, can be used for both cosmetic purposes and as a treatment for medical conditions of the skin.. The effects of glycerin on skin are a healthier, more natural-looking appearance.
•Promotes Skin Cell Maturation
•Maintains Water Balance
•Improve Appearance Of Skin
Chamomile Extract Benefits
-Strong Anti-inflammatory, great for sensitive and acne prone skin types who have inflammation.
-Anti-fungal, antibacterial, antiseptic, antioxidant.
-Helps fight and block out irritants by eliminating free radicals which damage your skin and accelerate the aging process.
-Natural skin lightener, promotes a healthy glow of the skin as it heals and restores its natural moisture content.
Apply all over the body especially dry and damaged areas. For best results apply on regular basis.