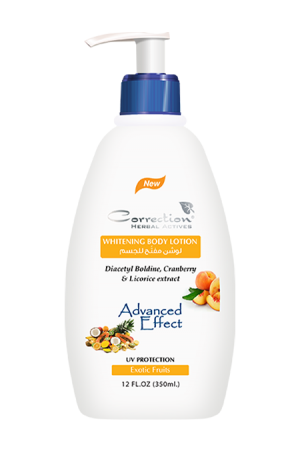 With Cranberry & Licorice Extract
Instantly soothes & nourishes the dry skin and provides active deep hydration.
Enriched with Vitamins A & E, Almond oil, Avocado oil and Chamomile extract.
Enriched with cranberry, licorice extract & Lumiskin that help together to lighten and purify the skin, enhance its radiance and reduce the appearance of skin blotches.
Contains UV protection that counteracts oxidative stress, prevents darkening and premature aging.
Fast-absorbing and non-greasy formula.
Aqua, Glycerin, Ethylhexyl Methoxycinnamate, Ceteareth 20, Isopropyl Myristate, Cetearyl Alcohol, Glyceryl Stearate, Vaccinium Macrocarpon (cranberry) Fruit Extract, Cucumis Sativus (Cucumber) Fruit Extract, Prunus Amygdalus Dulcis (Almond) Oil, Aloe Barbadensis Leaf Extract (Aloe Vera), Dimethicone, Titanium Dioxide, Parfum, Diazolidinyl Urea, Methyl Paraben, Glycyrrhiza Glabra (Licorice) Root Extract, Propyl Paraben, Carbomer, Tri-Ethanol-Amine, Tocopheryl Acetate, Caprylic/Capric Triglyceride, Diacetyl Boldine.
Escallol 557
INCI Name: Octyl Methoxycinnamate • Most widely used sunscreen in the world • Oil soluble, broad UVB absorbance • Worldwide approved.
Lumiskin Benefits
- Derived from Chilean tree bark is an all-natural ingredient.
- Inhibits the activity of tyrosinase, enzyme responsible for melanin synthesis.
- Promotes a skin tone that is more even looking.
VACCINIUM MACROCARPON (CRANBERRY) EXTRACT
Cranberry fruit's natural components are responsible for this extract's antioxidant and anti-inflammatory properties. This ingredient is a source of polyphenol antioxidants and flavonoids, such as proanthocyanidins, flavonols, and anthocyanidins which can help stimulate the synthesis of collagen fibers to strengthen the skin.
Aloe Vera Benefits
Rich in vitamins, minerals, amino acids, enzymes, and proteins, aloe is a natural humectants that helps support the moisture Balance of the skin. It has recognized its restoring, skin-soothing, and moisturizing properties.
Vitamin E Benefits
An antioxidant, is known as a dynamic weapon against premature aging and can help combat environmental pollutants.
Almond oil
Almond oil is an excellent emollient and moisturizer.  As an emollient it nourishes and softens the skin helping to keep it smooth to the touch.  Almond oil is similar in composition to the oil baby's excrete to keep their skin and hair healthy.  This composition is beneficial to protecting and conditioning your skin no matter your age.  By helping the skin stay healthy it promotes a youthful skin complexion.
Licorice Extract
The main active ingredient found in licorice extract for skin bleaching is glabridin. Glabridin inhibits pigmentation by preventing tyrosinase activation. It is nontoxic to melanocytes, preventing permanent discoloration nor is it toxic to surrounding keratinocytes. In fact, licorice extract has long been purported to have antiinflammatory properties. Licorice is really a multifunctional skin care ingredient.  Skin whitening is just one of its beneficial properties.  It has also been shown to protect skin from externals such as bacteria.  While it also helps to shields the skin from the suns harmful rays thus helping to keep skin looking younger and hyperpigmentation from reoccurring.  It works great in odds spots and sensitive spots such as under skin lightening as well as anal and vaginal skin lightening.
 Apply all over the body, for best results use it on regularly daily basis.