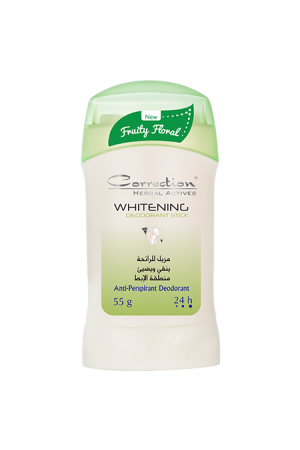 Whitening Anti-Perspirant Deodorant
• Eliminates skin depigmentation and prevents their reappearance in under arm area.
• Helps to lighten your under arm and get rid of dark skin .
• Provides 24 hours durable protection against perspiration.
• Gives you fairer, smoother and softer under arms.
• Enriched with Natural Extracts & free of harmful preservatives.
• Keeps you fresh all day.
• Ideal for sensitive skin. 
 Aqua, Aluminium Zirconium Tetrachlorohydrex Gly, Cyclopentasiloxane, Steareth-20, Steareth-2, PPG-14 Butyl Ether, Caprylic/Capric Triglyceride, Parfum, Phenoxy- ethanol, Sodium Lactate, Lactic acid, Diacetyl Boldine, Caprylyl glycol.
 
LUMISKIN™
LUMISKIN™ is a new skin brightening agent that works by stabilizing Tyrosinase in its inactive form, rather than by inhibiting it, as shown by in vitro studies reporting a 53% drop in Tyrosinase activity and a 70% decrease in the quantity of melanin. In further studies, a LUMISKINtreated skin model was found to display a visible and significant reduction in epidermal pigmentation. In vivo colorimetric tests corroborate this, as indicated by measurements of a lower melanin index and a higher ITA (clarity). In a self-evaluation, more than half thought there were less pigmented areas. The consensus of panelists overall was that skin was lighter and more radiant and their complexion, more even.
Aluminum Zirconium
It is selected for its ability to close pores in the skin and prevent sweat production. Its anhydrous form gives it the added ability of absorbing moisture.
Aluminum Zirconium Major Functions as an Antiperspirant Firstly, the aluminum and zirconium ions are absorbed into the skin cells, creating an osmotic pressure that draws water into the cell. The cell then swells with the influx of water, causing it to pinch the sweat glands closed, preventing the release of sweat. This swelling ability is common among aluminium-based antiperspirants. Secondly, it absorbs some of the sweat produced by pores that didn't get clogged in the first place. The chemical compound itself is hygroscopic. Because these two functions reduce underarm wetness, aluminium zirconium can be said to reduce body odor because it inhibits the bacterial breakdown of sweat.
Finally this newest generation ingredient, Aluminum Zirconium is much better tolerated by the skin and less likely to cause irritation or acne.
Aluminum Zirconium Chemical Formula
AlyZr(OH)3y+4-xClx•nH2O
Aluminum Zirconium Octachlorohydrate is a polymeric,loosely hydrated complex of basic aluminum zirconium chloride that encompasses a range of aluminum-to-zirconium atomic ratios between 6.0:1and 10.0:1,and a range of (aluminum plus zirconium)-to-chloride atomic ratios between 1.5:1and 0.9:1.It contains not less than 90.0percent and not more than 110.0percent of the labeled amount of anhydrous aluminum zirconium octachlorohydrate.
Apply under your arms everyday for a bright and fresh feeling all day long.