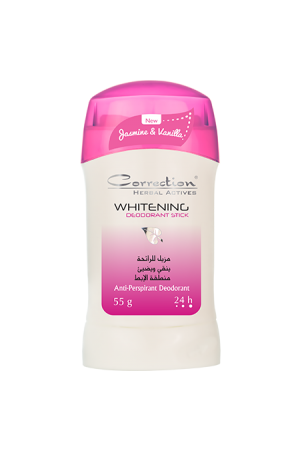 Whitening Anti-Perspirant Deodorant
• Eliminates skin depigmentation and prevent their appearance in Under Arm Area.
• Provides 24 hours durable protection against perspiration.
• Helps to enlighten your under arm and get rid of dark skin.
• Keeps you fresh all day.
• Gives you fairer, smoothes and softer under arms.
• Rich with Natural Extracts & free of harmful preservatives.
• Ideal for sensitive skin. 
Cyclomethicone , Aluminum Zirconium Tetrachlorohydrex Gly , Stearyl Alcohol, Aluminum/Magnesium Hydroxide Stearate, PEG-75, Parfum, Phenoxyethanol , Glyceryl Stearate, PEG 100 Stearate, Hydrogenated Castor Oil, Caprylyl glycol, Caprylic/Capric Triglyceride, Diacetyl Boldine.
Lumiskin™ is made from Diacetyl Boldine (DAB), an antioxidant derived from Chilean tree bark. It is oil-soluble, and works to block stress receptors and stabilize Tyrosinase, the enzyme that triggers hyper pigmentation, or skin discoloration. It also promises to reduce melanin production caused by the sun, or UV rays, resulting in a radiant, more youthful glow. Lumiskin is up to 30 times more potent than Kojic Acid.
Aluminum zirconium tetrachlorohydrex Gly is an active ingredient that has the ability to obstruct pores in the skin and prevent sweat from leaving the body. Its anhydrous form gives it the added ability of absorbing moisture.
Aluminum zirconium tetrachlorohydrex Gly diffuse into the sweat gland and forming a colloidal "plug" which limits the flow of sweat to the skin surface. The plug is gradually broken down and normal sweating resumes.
Apply under your arms everyday for a bright and fresh feeling all day long.