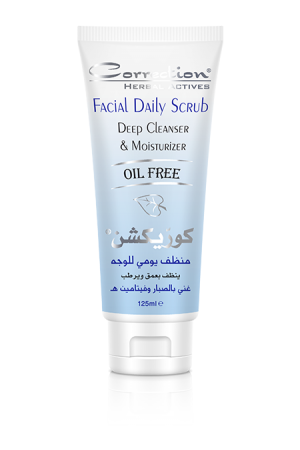 Deep Cleanser & Moisturizer
• Especially formulated to gently exfoliate, deep clean and refine the skin. 
• Using tiny Olive seeds effectively remove excess sebum, dirt and dead skin cells.
• Its advanced formula rich in Aloe Vera, Shea Butter, and Vitamin E leave your skin smooth, soft and refreshed.
Aqua, Stearic Acid, Polyethylene LDPE, Propylene Glycol, Polyacrylamide,  Butyrospermum Parkii Butter, Cetyl alcohol, Potassium Hydroxide, Methyl Paraben, Propyl Paraben, Tocopheryl Acetate, Parfum, Aloe Barbadensis Leaf Extract (Aloe Vera).
Aloe Vera Extract Benefits
Rich in vitamins, minerals, amino acids, enzymes, and proteins, aloe is a natural humectants that helps support the moisture Balance of the skin. It has recognized its restoring, skin-soothing,and moisturizing properties.
Vitamin E Benefits
An antioxidant, is known as a dynamic weapon against premature aging and can help combat environmental pollutants.
Shea butter Benefits
Shea butter melts on contact with the skin and is well known for its soothing, moisturizing and protective qualities. Beneficial for all skin especially cracked, dry and irritated conditions. Shea provide a luxurious feel, nourishes the skin, and help maintain the skins elasticity.
Apply enough quantity on clean face, then massage gently in a circular manner on your face. Rinse off thoroughly with warm water. Recommended for daily use.