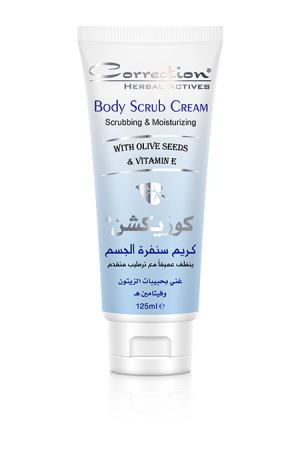 •Natural Scrubbing by Advanced Formula rich in tiny olive seeds, Shea Butter & Aloe Vera.
•Optimal deep cleansing and purifying by Removing dead skin Cells and impurities from your skin.
•Boosts the regeneration for skin tissues.
Aqua,Mineral Oil, Stearic Acid,Olive Seed, Cetyl Alcohol, Propylene Glycol , Glyceryl Monostearate, Shea Butter, Aloe Vera, Methyl Paraben,Propyl Paraben, Potassium Hydroxide, Fragrance, Vitamin E.
Aloe Vera Benefits
Rich in vitamins, minerals, amino acids, enzymes, and proteins, aloe is a natural humectants that helps support the moisture Balance of the skin. It has recognized its restoring, skin-soothing,and moisturizing properties.
Shea butter Benefits
Shea butter melts on contact with the skin and is well known for its soothing, moisturizing and protective qualities. Beneficial for all skin especially cracked, dry and irritated conditions. Shea provide a luxurious feel, nourishes the skin, and help maintain the skins elasticity.
Vitamin E Benefits
An antioxidant, is known as a dynamic weapon against premature aging and can help combat environmental pollutants.
OLEA EUROPAEA (OLIVE SEEDS) EXTRACT Benefits
Olive leaf and olive leaf extracts are recognized as anti-aging, immunostimulator, and antibiotic agents. The health benefits of this leaf include improved blood circulation, which helps eliminate toxin accumulations, contributing to the skin's healthy glow.
Apply on a clean area, then massage in a circular manner gently on your body while insisting on rougher areas (heels, Elbows, Knees). Rinse off thoroughly with warm water. Use 1-3 times a week.