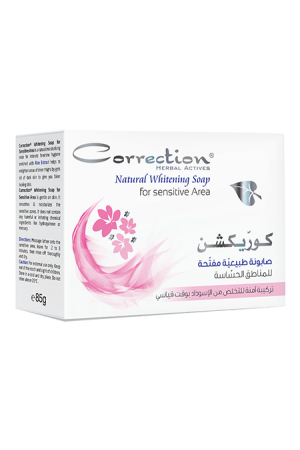 •Natural moisturizing soap for intimate feminine hygiene.
•Enriched with rice extract which helps to renew the skin and to counteract ultraviolet.
•Provides the safest way to enlighten the darkened sensitive area in a record area.
•Does not contain any harmful or irritating chemicals.
•Helps to balance out the complexion by moisturizing, this provides nourishment for dry skin and make your skin younger
Propylene Glycol,  Sodium Stearate, Sodium Lauryl Ether Sulfate, Cocamidopropyl Betaine Sodium Cocoate, Aqua, Glycerin, Sucrose, Sodium Chloride, Sodium  lactate, Oryza sativa (Rice) Extract, Parfum, Chloroxylenol (PCMX), BHT, Disodium EDTA.
Rice Extract Benefits:
Rice isn't just a grain; it's a seed from the plant (Oryza sativa). It is native to South Asia and parts of Africa.
Rice extract is produced through a process to concentrate the botanical components that are beneficial for skin care.
Usually, the using of botanical extract of rice is on the entire Sensitive line of products.
For skin that is sensitive, rice extract helps to balance out the complexion by moisturizing. This provides nourishment for dry skin.
1. Extract of rice is useful in increasing the production of collagen that functions in maintaining skin elasticity.
2. Chemical structure of the rice contributing to the regeneration and growth of skin cells that have been damaged or dead.
3. Rice contains oryzanol substances that can help renew the skin pigment and useful to counteract ultraviolet.
4. Rice containing vitamin E are beneficial nourish the skin so it looks younger
5. Ferulic acid in rice useful as an antioxidant and can protect skin from free radicals.
Rice contains a high concentration of PABA. PABA (para aminobenzoic acid) is a very good sunscreen. When taken internally, PABA also raises the Vitamin C levels in our bodies. 
Rice also contains two other sun protecting agents – ferulic acid and allantoin. 
Ferulic acid is an antioxidant. Incredibly, scientists have found that when ferulic acid is added to Vitamin C and E, its sun protection ability doubled. (Scroll down this page to read an extract of the study's findings.) 
Allantoin is a good anti-inflammatory agent. It soothes sunburns and also promotes the skin's repair. 
Washing your face in rice water can give you fairer and more translucent skin. While results will not be dramatic, you should see your skin become lighter within a month.
Rice makes an excellent skin care product for any skin type whether it is oily, acne prone or dry skin.  You can use it as a cleanser, exfoliator to brighten and whiten your skin.
Massage lather onto the sensitive area, leave for 2 to 3 minutes, then rinse off thoroughly and dry.