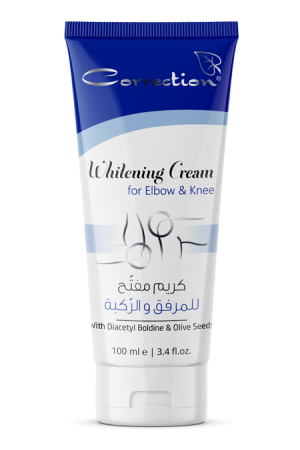 ¤ Contains an advanced natural formula enriched with Lumiskin, Cranberry & Liquorices extract.
¤ Helps to eliminate dark areas and discoloration at knees and elbows.
 ¤ Encourages clarity and brightness , by resisting the causes of skin darkening and slow skin renewal.
¤ Contains soft olive seeds that ensure natural scrubbing & remove dead skin cells formed in these areas and encourage the regeneration of skin tissues.
¤ Non-irritating formula gentle to the skin.
 
Aqua, Cetearyl Alcohol, Glyceryl Monostearate, Olea Europaea (Olive) Seed , Ethylhexyl Methoxycinnamate, Caprylic/Capric Triglyceride, Isopropyl Myristate, Titanium Dioxide, Glycerin, Prunus Amygdalus Dulcis (Almond) Oil, Glycyrrhiza Glabra (Licorice) Root Extract, Vaccinium Macrocarpon (cranberry) extract, Butyrospermum Parkii Butter, Dimethicone, Aloe Barbadensis Leaf Extract (Aloe Vera), Diacetyl Boldine, Imidazolidinyl Urea, Parfum, Methyl Paraben, Propyl Paraben, Tocopheryl Acetate.
Lumiskin Benefits
- Derived from Chilean tree bark is an all-natural ingredient.
- Inhibits the activity of tyrosinase, enzyme responsible for melanin synthesis.
- Promotes a skin tone that is more even looking.
VACCINIUM MACROCARPON (CRANBERRY) EXTRACT BENEFITS
Cranberry fruit's natural components are responsible for this extract's antioxidant and anti-inflammatory properties. This ingredient is a source of polyphenol antioxidants and flavonoids, such as proanthocyanidins, flavonols, and anthocyanidins which can help stimulate the synthesis of collagen fibers to strengthen the skin.
Aloe Vera Benefits
Rich in vitamins, minerals, amino acids, enzymes, and proteins, Aloe is a natural humectants that helps support the moisture Balance of the skin. It has recognized its restoring, skin-soothing, and moisturizing properties.
Almond Oil Benefits
An excellent lubricant and emollient which is high in oleic, linoleic and other fatty acids. Ideal in the treatment of dry, chapped skin, it protects and moisturizes. Native sweet almond protein has similar properties with collagen and is an excellent anti-aging component that retains moisture, softens and smoothes the skin. Especially suited for sensitive skin.
Shea butter Benefits
Shea butter melts on contact with the skin and is well known for its soothing, moisturizing and protective qualities. Beneficial for all skin especially cracked, dry and irritated conditions. Shea provide a luxurious feel, nourishes the skin, and help maintain the skins elasticity.
Vitamin E Benefits
An antioxidant, is known as a dynamic weapon against premature aging and can help combat environmental pollutants.
OLEA EUROPAEA (OLIVE SEEDS) EXTRACT Benefits
Olive leaf and olive leaf extracts are recognized as anti-aging, immunostimulator, and antibiotic agents. The health benefits of this leaf include improved blood circulation, which helps eliminate toxin accumulations, contributing to the skin's healthy glow.
Apply a generous amount onto clean knees and elbows; Massage it gently in a circular manner until total absorption. It should be used daily & continuously.