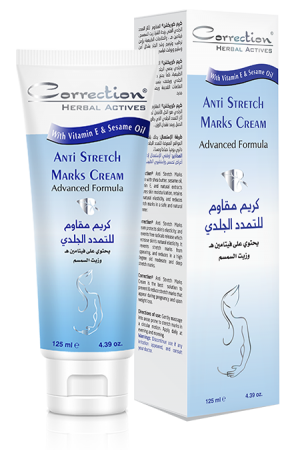 With Sesame Oil & Vitamin E
•Prevents stretch marks from appearing and reduces in high degree old stretch marks in a safe and natural manner. .
•Protects and restores skin's elasticity.
•Prevents the damage of free radicals.
•Rich in Matrixyl™ (stimulate collagen production and reconstruct its network), Sesame Oil (tighten, smooth and moisturizer the skin), Shea Butter and Vitamin E.
Aqua, Hydrolyzed Sesame Protein ,Glyceryl Monostearate ,Petroleum Jelly ,Cetyl Alcohol ,Glycerin ,Isopropyl Myristate ,Dimethicone ,Shea Butter ,Lanolin ,Stearic Acid ,Palmitoyl Pentapeptide -3 ,Germel ,Fragrance ,Methyl Paraben ,Tri Ethanol Amine ,Vitamin E ,Propyl Paraben.
SeasFlash
SeasFlash is a new generation tightening agent. The patented molecular active ingredient combination contains sesame to instantly and visible smooth the skin, as well as tighten it. Sesaflash also incorporates an effective long lasting hydrating effect.
Backed by in vivo studies substantiating the tightening action, wrinkle releasing effect, sensorial experience and moisturization level, SesaFlash can be used in all types of applications where smoothing, tightening, firming, anti-aging or moisturizing properties are desired. It is an ideal complement to long-term, anti-aging active ingredients such as Matrixyl 3000, Argireline, SNAP-8 and others. SesaFlash does not generate electrolytes and will not affect viscosity. It is compatible in a range of pH, however the optimum pH for skin tightening efficacy is pH 7.
MATRIXYL ™
Matrixyl™ is an anti-wrinkling and lifting effect ingredient that provides an anti-aging effect.  By definition Matrixyl contains two matrikines, Pal-GHK and Pal-GQPR which act in synergy to restore and maintain the skin's youthful appearance . Matrixyl properties are created by matrikines which are messengers of cutaneous restructuration and repair. They activate the neosynthesis of extracellular matrix macromecules providing Matrixyl with a visible ant-wrinkle efficacy. Characteristics of Matrixyl matrikines are that they are capable of regulating cell activities. They interact with specific receptors to activate certain genes involved in the process of extracellular matrix renewal and cell proliferation. With age these mechanisms become progressively weaker.
Gently massage into areas prone to stretch marks in a circular motion. Apply daily at evening and morning.