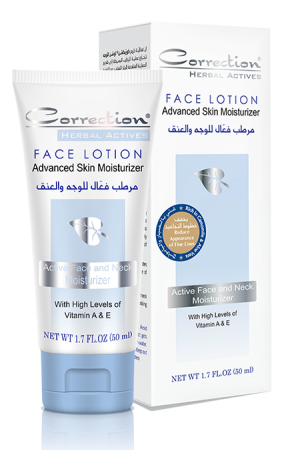 Advanced Skin Moisturizer
Moisturizes and treats severe dryness.
Rich in Natural Extracts (Aloe vera, cucumber, Chamomile, and Almond Oil) with Vitamins (A&E).
Reduces the appearance of fine lines and restores elasticity.
Enhances the skin's renewal process.
Nourishes and softens all skin types.
Aqua, Glycerin, Cetearyl Alcohol, Caprylic / Capric Triglyceride, Stearic Acid, Chamomilla Recutita (Matricaria) Flower Extract, Isopropyl Myristate, Cucumis Sativus (Cucumber) fruit extract, Cholesterol, Glyceryl Stearate, Aloe Barbadensis Leaf Extract (Aloe Vera), Dimethicone, Methyl Paraben, Prunus Amygdalus Dulcis (Almond) Oil, Imidazolidinyl Urea, Titanium Dioxide, Propyl Paraben, Carbomer, Tri-Ethanol-Amine, Tocopheryl Acetate, Fragrance, Polyacrylamide, C13-14 Isoparaffin, Laureth-7, Retinol Palmitate.
Aloe Vera Benefits
Rich in vitamins, minerals, amino acids, enzymes, and proteins, aloe is a natural humectants that helps support the moisture Balance of the skin. It has recognized its restoring, skin-soothing, and moisturizing properties.
Almond Oil Benefits
An excellent lubricant and emollient which is high in oleic, linoleic and other fatty acids. Ideal in the treatment of dry, chapped skin, it protects and moisturizes. Native sweet almond protein has similar properties with collagen and is an excellent anti-aging component that retains moisture, softens and smoothes the skin. Especially suited for sensitive skin.
Vitamin E Benefits
An antioxidant, is known as a dynamic weapon against premature aging and can help combat environmental pollutants.
Camomile Extract
Camomile Extract gives a remarkable soothing, moisturizing, toning, lifting and modeling effect for the skin. It soothes irritates sensitive skin, Azulene, an active component of Camomile Extract, has anti-inflammatory, regenerative and antihistaminic effects. Another Camomile Extract component, bisabolo soothes the skin due to its anti-irritant, anti-inflammatory and anti bacterial properties.
Retinyl Palmitate (Vitamin A)
Retinyl Palmitate (Vitamin A Palmitate) is a form of Vitamin A. It is produced from Retinol (Vitamin A) and Palmitic Acid (a fatty acid) Retinyl Palmitate is a hair conditioning agent. Retinyl Palmitate also enhances the appearance and feel of hair: it increases suppleness, sheen and body. In addition, it improves the texture of hair that has been physically or chemically damaged.
Direction and warnings: Smooth on to face and neck twice a day for softer, younger looking skin. Avoid contact with eyes. If product gets into eyes, rinse thoroughly with water.