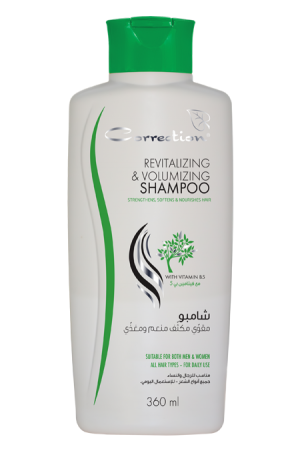 Revitalize and volumize hair.
Energize, nourish and strenthen scalp also stimulate & revitalize follicles.
Maintain vital moisture needed for hair to be naturally soft & glowingly alive.
Fortified with Red Ginseng extract, Vitamin B5 & E, Chamomile, and Aloe Vera.
The gentle formula makes correction Shampoo is suitbale for both men & women, all hair types and for daily use.
Make the hair smooth, shiny and be protected from damage.
Aqua, Carbomer, Sodium Laureth Sulfate, Cocamidopropyl Betaine, Cocamide MEA, Panthenol, Dimethicone, laureth-4, laureth-23, Polyquaternium-7, Polyquaternium-10, Guar Hydroxypropyltrimonium Chloride, Sodium Chloride, Sodium Hydroxide, Methylchloroisothiazolinone, Aloe Barbadensis Leaf Extract, Chamomilla Recutita (Matricaria) Flower Extract , Panax Ginseng Root Extract, Parfum .
Sodium Laureth Sulfate: SLS is a detergent and surfactant creates a lather which makes products such as shampoo more effective cleaners also it has the ability to remove oily residues.
Cocamidopropyl Betaine: It's made from coconut oil, as a surfactant it gently cleanses the hair by helping water to mix with oil and dirt so that they can be rinsed off. It reduces the potential irritation caused by other cleansing ingredients contained in the product. In addition, it produces a fatty layer on the hair that gets rid of static and provides emollient and manageability.  Because of its well-known foaming and moisturizing capabilities.
Cocamide MEA: It's made from the fatty acids of coconut oil, it Works as a foaming agent and enhances the properties of the main cleansing ingredient contained in a surfactant While its foaming capabilities are not directly responsible for cleansing the hair, it allows the hands to efficiently work and spread the cleanser/shampoo across the surface, which in turn, helps the mechanical removal of dirt. It also provides excellent moisturization and conditioning to the hair.
Panthenol: It is a derivative of vitamin B5 and is known as a provitamin. Panthenol is mostly used as a thickness and also as a humectant helps hair absorb and retain moisture which makes them shiny and more healthy appearing. In addition, the absorption of moisture causes the shaft of the hair to swell to accommodate the extra water - this makes thin or thinning hair appear thicker.
In addition, because Panthenol also spreads evenly on the surface of the hair strand, it forms a smooth film over hair cuticles that enhances light reflection and makes tresses look shinier and glossier. The smooth film also gives hair strands "slip" to discourage knots or tangles.
Another benefit of products containing Panthenol is that it helps to prevent breakage in your tresses. This vitamin derivative also restores elasticity to your strands.
Products containing panthenol penetrate the hair shafts as well as coating them with a protective gloss. This allows you to comb through wet hair easily, and you'll be able to glide your comb gently through tangles to loosen them rather than pulling them out.
Dimethicone: It is a moisturizer that makes it a highly effective additive hair care products. It is also used as an emollient to make the surface of the skin more flexible and help the skin retain moisture. Once the hair is coated with products containing Dimethicone, stubborn snags, knots, curls, and frizzy hair can be combed through more easily.
Laureth-4 & laureth-23: They are used in cuticle softener.
Polyquaternium-7: It is a very good detangler and provides slip for easier wet-combing. In addition it will add softness and shine to dry hair.
Polyquaternium-10: It provides film formation on hair and moisturization. It is non-irritating.
Guar Hydroxypropyltrimonium Chloride: It is derivative of natural guar gum, Studies have found it to be an excellent conditioning agent proving effective at detangling hair and providing a smoother brushing experience.
Sodium Chloride: It enables the shampoo to rinse out better.
Sodium Hydroxide relaxers are very effective in breaking down the hair's bonds (straightening the hair) quickly. Because it processes quickly it is also the most commonly used relaxers by professionals.
Aloe Barbadensis Leaf Extract: Aloe vera can be used as a safe and natural treatment to prevent hair loss. It is great for both men and women to promote new hair growth, it stimulates the production of new hair.
The aloe vera plant is packed with essential vitamins and minerals that aid in restoring hair's strength and beauty. It can can be added to favorite shampoos to deliver nourishing benefits.
The natural enzymes found in aloe vera can soothe and moisturize the scalp, helping to eliminate the scaly dryness that causes dandruff. It also helps to increase blood circulation in the scalp, which works to stimulate the production of moisturizing oils. Aloe vera also brings a refreshing and cooling sensation to the scalp.
Aloe vera acts as a natural conditioning agent that restores the hair's sheen, luster, and shine. It not only makes the hair soft, but it also enhances strength and suppleness.
Chamomilla Recutita (Matricaria) Flower Extract: Chamomile has special properties that may help prevent hair loss. The yellow color of chamomile infusion imparts brightness and shine and lightened the color of hair.Chamomile tea has been shown to be effective in eliminating and preventing dandruff.  When your scalp is irritated it soothes the scalp so that dandruff is less likely to occur.  
 Panax Ginseng Root Extract: Ginseng may promote hair growth and reduce hair loss. Korean red ginseng is also believed to increase the number of dermal papilla cells in the scalp by preventing their natural cell death. Ginseng may also stimulate the scalp, encouraging hair growth. Ginseng is able to optimize the absorption of the nutrients needed by the hair.
Ginsenoside which contained in Ginseng can be used to strengthen hair roots, because Ginsenoside is the giver of extra nutrients, so it will help the hair roots become stronger.
Saponin content of which is an anti-bacterial compound in Ginseng can be used for preventing excessive dandruff caused by bacterial activity. So that the scalp can be clean and free from dandruff.
Cellulose contained in Ginsing, is strengthening the surface layer of hair, also can be used to protect hair from the sun that can damage the hair.
Massage the shampoo into wet hair and scalp. Allow the product to sit for 1-2 minutes, then rinse hair thoroughly.