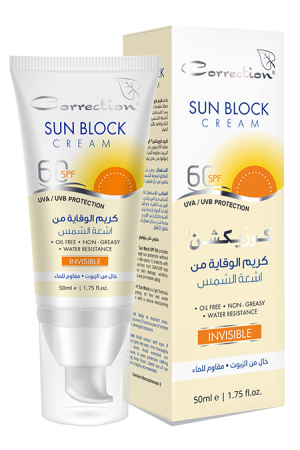 - SPF 60 with six protection factors.
- New Escalol Technology from Ashland ( Netherlands source ) 
- Advanced spectrum from UVA/UVB rays that cause skin damage, wrinkles, brown spots and premature aging.
- Light formula, non – greasy, oil free and water resistance.
- Contains Natural moisturizing factor.
Aqua, Ethylhexyl Methoxycinnamate, Octocrylene, Phenethyl Benzoate, Butyl Methoxydibenzoylmethane, Benzophenone-3, Methylene Bis-Benzotriazolyl-Phenol, Isocetyl Stearoyl Stearate, Glycerin, Cetearyl Alcohol, PEG-100 Stearate, Titanium Dioxide, Simethicone, VP/Eicosene Copolymer, Phenoxyethanol, Xanthan Gum, Tetrasodium EDTA, Aloe Barbadensis Leaf Extract (Aloe Vera), Caprylyl glycol, Parfum.
•Escalol® 517 Butyl Methoxydibenzoylmethane UVA Sunscreen
•Escalol® 557 EthylHexyl Methoxycinnamate UVB Sunscreen
•Escalol® 567 Benzophenone-3 UVA Sunscreen
•Escalol® 597 Octocrylene UVB Sunscreen
•Ceraphyl® 791 Isocetyl Stearoyl Stearate Emollient, Pigment, dispersant
•X-Tend 226 Phenethyl Benzoate UV Filter, solubiliser
•Antaron® V-220 F VP/Eicosene Copolymer  Water/wear
 
Apply on exposed areas. Re-apply every 2 hours in case of intense sun or prolonged exposure.