7 Hair Natural Oil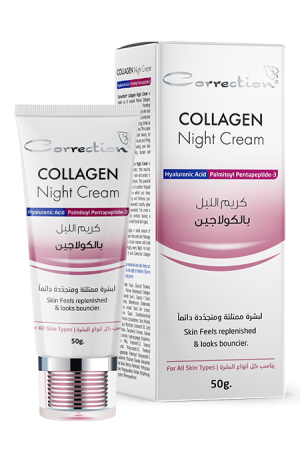 Skin Feels Replenished & Looks Bouncier
Fortified with vitamins that nourish the skin and protect it against loss of moisture.
 Plumps up the skin and give it a bouncy feel.
Helps Epidermis to produce higher levels of collagen and elastin.
Relaxes & soothes fatigued and wrinkled skin whilst you sleep.
Made up of natural Marine Collagen, Hyaluronic Acid and Palmitoyl pentapeptide-3.
Visibly reduces the appearance of wrinkles and fine lines.
Effectively prevent premature ageing, plump up skin and give it a bouncy feel.
Gently shaping facial features and filling wrinkles prominent.
Provides prolongs regeneration and nourishment.
Deeply hydrates the skin and protects it against loss of moisture
Improves elasticity and firmness.
Intended for all skin types.
Aqua, Glyceryl Stearate, Glycerin, Marine Hydrolyzed Collagen, Biosaccharide Gum-1, Caprylic / Capric Triglyceride, Dimethicone, Cholesterol, Strelitzia nicolai Seed Aril Extract, Butylene Glycol, Dimethicone/Vinyl dimethicone crosspolymer, Cetyl Alcohol, Isopropyl Myristate, Ceteareth-20, Cetyl Palmitate, Tocopheryl Acetate, Sodium Hyaluronate, Hydroxypropyl Bispalmitamide MEA, Ceteareth-12, Cetearyl Alcohol, Polysorbate-20, Palmitoyl Oligopeptide, Palmitoyl Tetrapeptide-7, Carbomer, Titanium Dioxide, Imidazolidinyl Urea, Retinyl Palmitate, Methylparaben, Propylparaben, Parfum, Ethylhexylglycerin, Phenoxyethanol.
What is Matrixyl? Basically, its a peptide. Creams these days frequently boast about being packed full of peptides, but are not specific as to which peptide is being referred to. Matrixyl is Palmitoyl Palmitoyl Tripeptide-1 & Palmitoyl Tetrapeptide-7  and these are peptides that specifically stimulate collagen synthesis and skin repair , help the epidermis to produce higher levels of collagen and elastin.This means they qualify as a long-term aging system.
BioGenic Gensil-210L contains water, Hyaluronic Acid and pseudo-ceramide. It provides a silky soft skin feel as well as an excellent moisturising effect.
The main role of  Hyaluronic acid in cosmetics is as a highly effective humectant (moisturizer),  Hyaluronic acid may be used as a filler to remove wrinkles in cosmetic surgery.
Aloe Vera Extract Benefits
Rich in vitamins, minerals, amino acids, enzymes, and proteins, aloe is a natural humectants that helps support the moisture Balance of the skin. It has recognized its restoring, skin-soothing,
and moisturizing properties.
Vitamin E Benefits
An antioxidant, is known as a dynamic weapon against premature aging and can help combat environmental pollutants.
Chamomile Extract Benefits
-Strong Anti-inflammatory, great for sensitive and acne prone skin types who have inflammation.
-Anti-fungal, antibacterial, antiseptic, antioxidant.
-Helps fight and block out irritants by eliminating free radicals which damage your skin and accelerate the aging process.
-Natural skin lightener, promotes a healthy glow of the skin as it heals and restores its natural moisture content.
Apply a small amount of cream onto clean face and neck; Massage it gently in a circular manner until total absorption. Apply every Night. For best results use it with Correction Collagen Day Cream.