7 Hair Natural Oil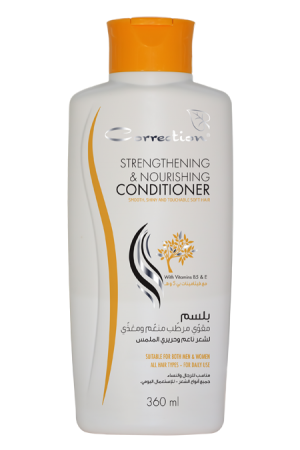 Revitalize and volumize hair.
Energize, nourish and strenthen scalp also stimulate & revitalize follicles.
Maintain vital moisture needed for hair to be naturally soft & glowingly alive.
Fortified with Red Ginseng extract, Vitamin B5 & E, Chamomile, and Aloe Vera.
The gentle formula makes correction Conditioner is suitbale for both men & women, all hair types and for daily use.
Make the hair smooth, shiny and be protected from damage.
Aqua, Cetearyl Alcohol, Cetyl Alcohol, Panthenol, Tocopheryl Acetate, Behentrimonium Chloride, Dimethicone, Ceteareth-20, Citric Acid, Cetrimonium Chloride, Methylchloroisothiazolinone, Methylisothiazolinone, Parfum .
Panthenol: It is a derivative of vitamin B5 and is known as a provitamin. Panthenol is mostly used as a thickness and also as a humectant helps hair absorb and retain moisture which makes them shiny and more healthy appearing. In addition, the absorption of moisture causes the shaft of the hair to swell to accommodate the extra water - this makes thin or thinning hair appear thicker.
In addition, because Panthenol also spreads evenly on the surface of the hair strand, it forms a smooth film over hair cuticles that enhances light reflection and makes tresses look shinier and glossier. The smooth film also gives hair strands "slip" to discourage knots or tangles.
Another benefit of products containing Panthenol is that it helps to prevent breakage in your tresses. This vitamin derivative also restores elasticity to your strands.
Products containing panthenol penetrate the hair shafts as well as coating them with a protective gloss. This allows you to comb through wet hair easily, and you'll be able to glide your comb gently through tangles to loosen them rather than pulling them out.
Dimethicone: It is a moisturizer that makes it a highly effective additive hair care products. It is also used as an emollient to make the surface of the skin more flexible and help the skin retain moisture. Once the hair is coated with products containing Dimethicone, stubborn snags, knots, curls, and frizzy hair can be combed through more easily.
Apply the product after shampoo on wet hair, spreading it on the whole hair, let the product to sit for 3-5 minutes, then rinse thoroughly.