7 Hair Natural Oil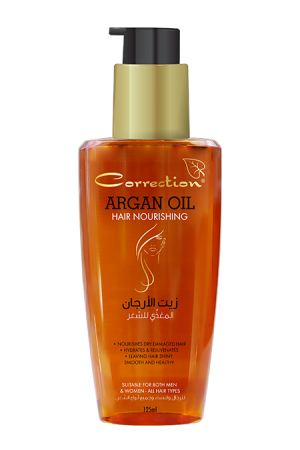 ·         Adds extra strengthening, repairing and nourishment for dry damaged hair.
·         Contains Natural antioxidants that protect hair against heat styling and environmental damage.
·         It restores brilliance to hair by infusing rich moisture while reducing frizz, split ends and breakage.
·         Leaving the hair radiant, elegant and healthy-looking.
·         Its gentle formula makes Correction Shampoo to be suitable for both men & women - All hair types and for daily use.
Argania Spinosa Kernel Oil (Argan Oil), Tocopherol, Parfum.
Argan Oil also known as Moroccan oil, is made from the kernels of the argan tree fruit that grows almost exclusively in Morocco.
Argan Oil IS THE BEST HAIR TREATMENT
1-   First use: Before using the blow dryer or a styling iron on your hair, use Argan Oil as a safeguard to protect your hair from heat styling products.
2-   Second Use: Instead of using those high chemical hair styling products, use natural Argan oil to style your hair every day. Repetitive usage of chemicals on hair will damage hair shafts and the keratin protein naturally found in human hair.        
As well as offering long-term improvements in softness and strength, it gives hair an immediate gloss to it, and is a great way to tame frizzy hair into submission.
3-   After taking the shower, you can use a few drops of Argan Oil on your hair as a leave-in conditioner. Use it when your hair is still wet for the best results.
Its hydrating and moisturizing properties will work wonderfully on your hair. It makes an ideal conditioning agent since it makes hair soft and sleek and adds extra shine. Make sure to massage into the scalp and tips to promote healthy scalp, encourage hair growth and to treat split ends.
4-   If your hair is dry and lifeless, then use Argan Oil to massage your scalp.
Argan Oil has positive results in making damaged hair soft, shiny and hydrated.
As a scalp treatment for dry skin. Using Argan Oil on your scalp will nourish you hair and reduce dry scalp. You can leave the oil on your hair a few hours before shampoo.
"You can also leave it overnight if you have dandruff or dry scalp. Do this treatment twice per week to get rid of dandruff."
"Using a larger quantity of Argan Oil as a hair mask means that as many of the nutrients as possible will be absorbed. This is a great treatment to use the night before a special event when you want your hair to be extra smooth, sleek and voluminous."
Apply a small amount to the palm of your hand, spread well with the fingers and gently rub it on dry or wet hair. Could be used daily. Do not rinse.